The Sound Of Fury
Thank you for visiting this web site.
This page is dedicated to his Billy Fury tribute act 'The sound of Fury.' This wonderous place pays homage to the legend that is Billy Fury.
After negotiations with a promoter it was decided that as Storm King was a big fan of Billy's, he would work towards creating an authentic Billy Fury tribute act and started working on the songs right away. He put together a tribute show using Billy Fury's history and sent the promoter his first demo to prove he could do it, in only six weeks.
His first recordings were very close to Billy Fury's own recordings and he was using studio quality backing tracks. Since then Storm King has been working consistently on the tribute songs and has now got the tribute songs to sound as realistic as possible.
Then Storm King had a slot on TV and later got bookings for performances at various Kent Coast holiday camps, since then it has been non stop and he has performed all over the UK.
The Tribute Act
After an instrumental theatrical style version of Halfway to Paradise as an introduction, Storm King makes his entrance on stage.
As well as singing many of Billy's songs there are also voice over slots of his life history.
Click on the CD to hear a demo of the Billy Fury Tribute including Halfway to Paradise, A Thousand Stars, It's Only Make Believe etc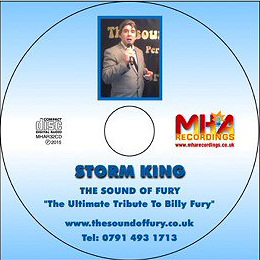 "It took me back to when I backed Billy Fury"
Roger La Verne - The Tornados and Billy Fury's Keyboard player
" A first class tribute show"
Paul 'Beaky' Bennett - Dozy, Beaky, Mick and Tich
" A great tribute to a great singer"
Mike Neal - Beat Goes On 60's Magazine
"Very much like Billy Fury"
Rick Foster - Chicory Tip

Please note this site is not connected with or intended to represent the Billy Fury Fan club the Sound of Fury.